Meet four Disciplined Agile certifications that join PMI Agile Certified Practitioner (PMI-ACP)® to create a comprehensive suite of agile training and certifications that extends beyond any single agile approach.
True Business Agility Starts Here
20% off for PMICVC members!
Disciplined Agile Scrum Master (DASM) Certification Course
PMI CVC has partnered with Leadership Techniques, LLC to provide our members with discounted rates on an upcoming DASM certification course, May 20-21.
See below for more information!
Don't miss your chance to register!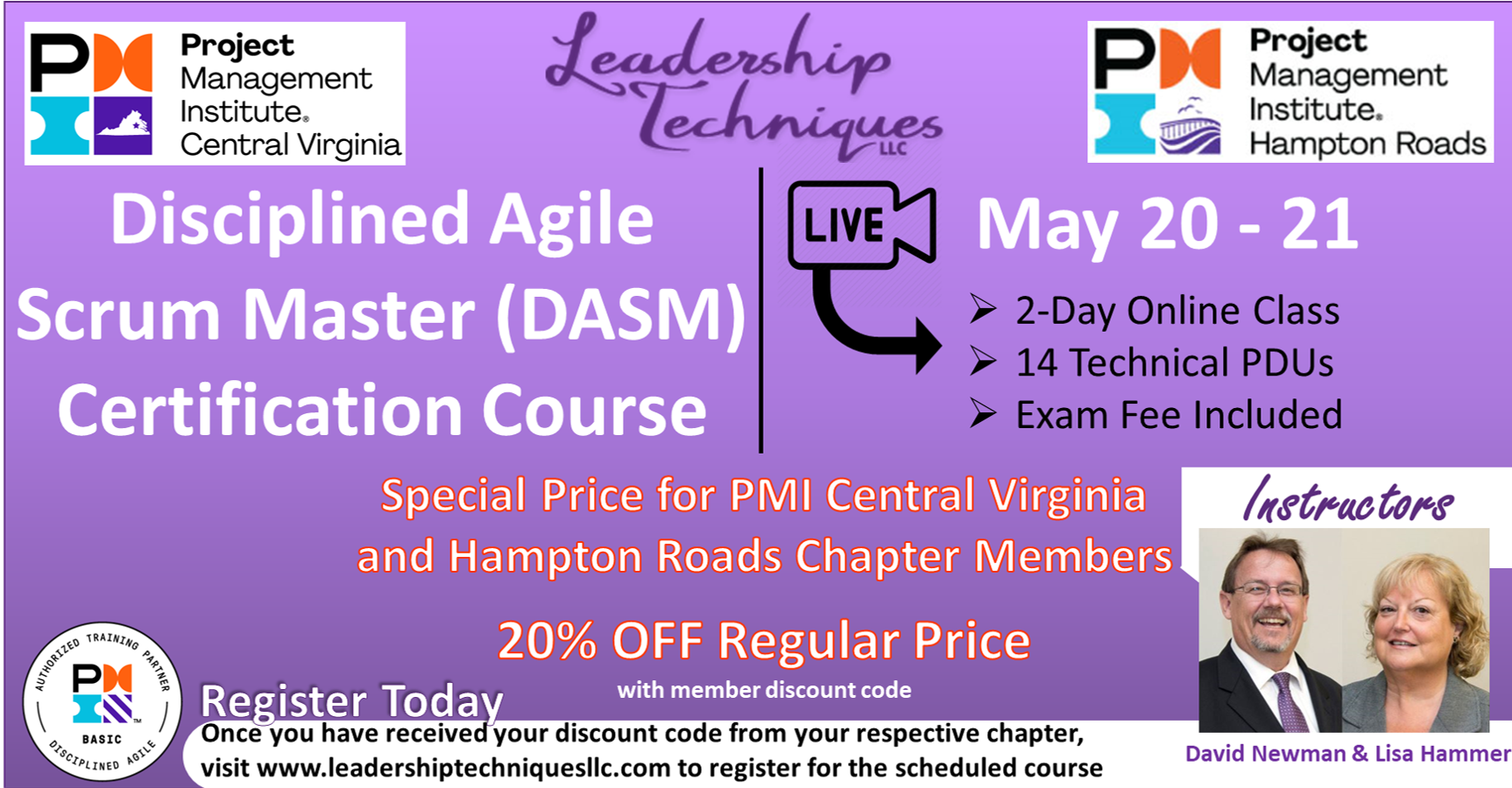 Request Your Discount Code Here!
Additional Resources
Introduction to Disciplined Agile
The Disciplined Agile (DA) tool kit provides straightforward guidance to help organizations streamline their processes in a context-sensitive manner, providing a solid foundation for business agility. It does this by showing how the various activities such as Finance, Portfolio Management, Solution Delivery (software development), IT Operations, Enterprise Architecture, Vendor Management and many others work together. DA also describes what these activities should address, provides a range of options for doing so, and describes the trade-offs associated with each option.
Learn More Information
Basics of Disciplined Agile Online Course
This self-paced, online course shows you how to choose the right agile solution for your situation, and achieve a way of working that gets better results, faster. Because true business agility comes from freedom, not frameworks. Since it's online, you can do it right from home, on your schedule – day or night. Your path to mastering agile starts here.
Learn More Information
The Disciplined Agile Mindset
The Disciplined Agile (DA) mindset is captured in the form of principles, promises, and guidelines. Disciplined agilists believe in the DA principles, so we promise to adopt these behaviours and follow these guidelines when doing so.
Learn More Information