<< Back to Calendar
GSD Workshop: Servant Leadership That Gets Sh*t Done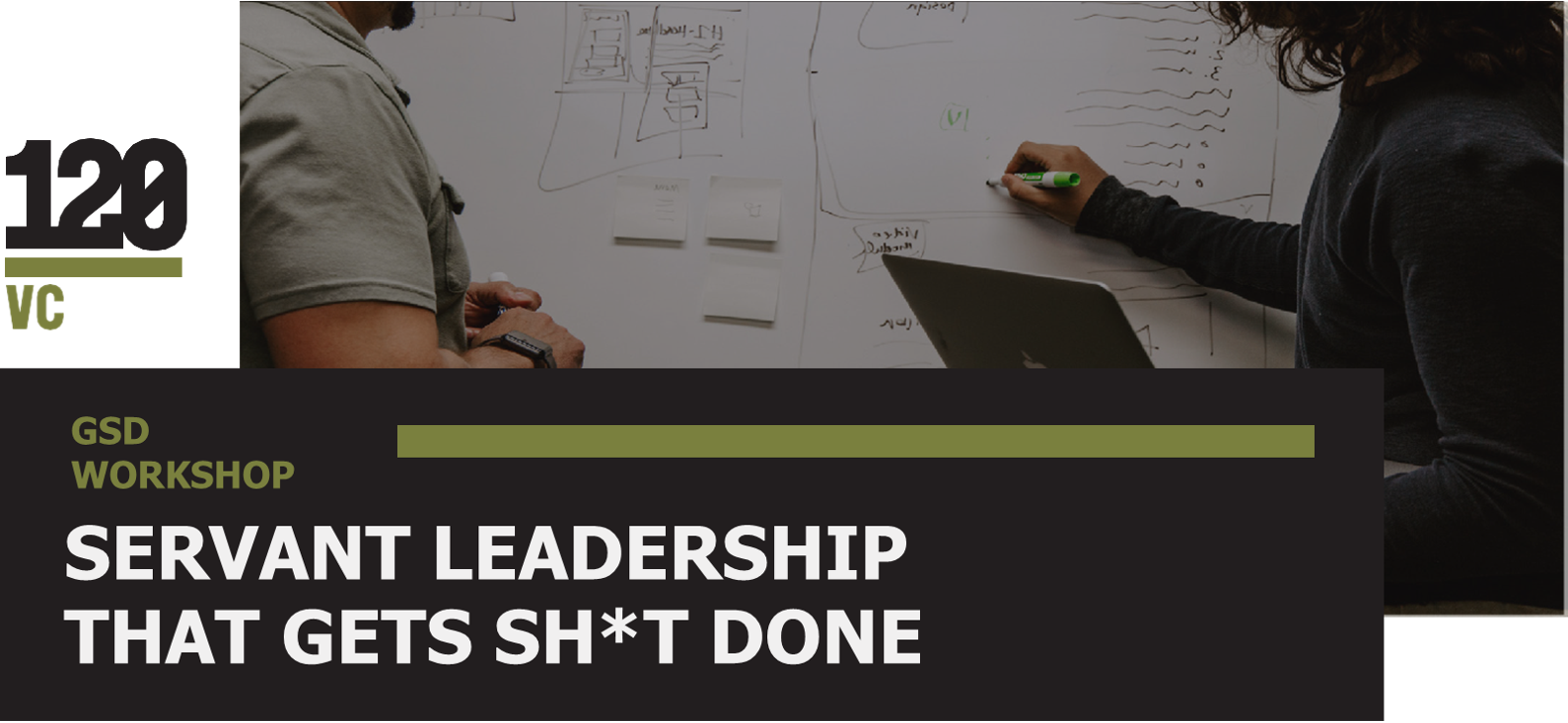 Projects and agile processes fail when people fail to lead. This workshop is about putting the how-to techniques used at 120VC in your hands. You will learn two simple game-changing methods to earn credibility and 6 leadership techniques that can be put into practice immediately. Unlock the transformative power of GSD by putting focus on developing your leadership skills and of every person on your team.
Are you tired of hearing that most projects fail because of poor communication? The frustration you feel is probably because you instinctively understand the following:
Projects don't fail; they don't have a heartbeat or a social security number. People fail.

Communication is simply the vehicle we use to lead.

Blaming failure on communication is the greatest obstacle to addressing the lack of leadership skills that lead to undesirable outcomes.
If we were to simplify the success criteria for a leader, it would be "they enable their team to get sh*t done that creates value for their organization."
When organizations focus on improving communication, they generally add processes and guidelines that increase the workload on teams that are already struggling to deliver the desired results. But it's easier to use communication as the scapegoat than it is to admit they "suck at leadership!"
The solution is to focus on developing the leadership skills of each of their team members regardless of their title. The basic foundation of an agile organization, an agile mindset and teamwork is that "everyone is a leader." Increasing the Leadership Quotient (LQ) in an organization, and getting "lean" with process will lead to more successful projects and desired outcomes.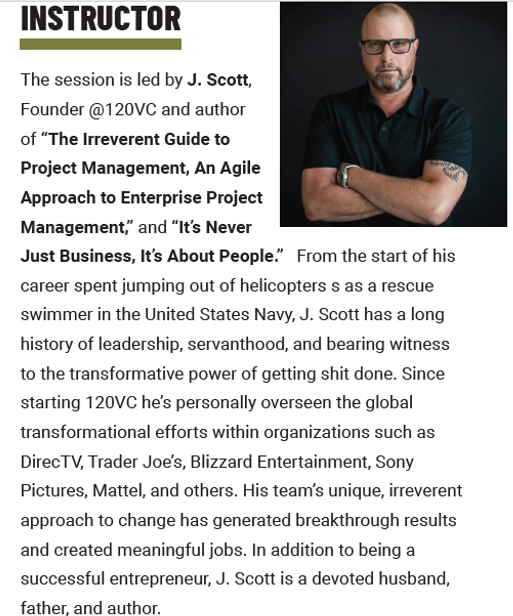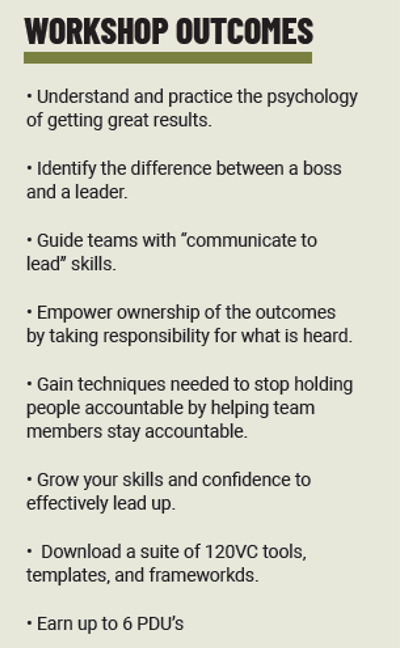 WHO'S THIS FOR?                               
This workshop is designed for any Project, Program, Portfolio, Product, Scrum Master, Change Manager, Operations or HR Manager who is driven to achieve results, make change happen, and create value for their organization.
We encourage you to sign up together with a colleague from your own team, department or organization so that you can support each other with continued learning after the course is completed and be a GSD Leader in your organization.
WHAT IS 120VC?
We are a transformation leadership firm that is passionate about our mission—to get sh*t done (GSD). We complete global enterprise-wide transformational projects, optimize product pipeline, and stick change initiatives for our clients in a strategic, cost-effective manner with near 100% user adoption on day one.
---
WHAT PEOPLE ARE SAYING
"Jason Scott is a dynamic speaker that is passionate about Leadership. I have heard him present on several topics over the past 3+ years, drawing in both new and seasoned project managers. I have recommended him to speak at meetings for several local Southern California PMI Chapters. Not only is he a great speaker, but his follow-up after the meeting is always timely as he treats his audience with the utmost priority." - DEBY COVY, PMI Los Angeles
"Jason has been a guest speaker in my project management courses at USC Marshall School over the past five years. He is an informative, enthusiastic and inspiring speaker who is a pleasure to work with.
Jason has a great sense of humor which helps him captivate his audience. His personal stories help him to enrich the subject matter and connect his content to the audience. I have always appreciated that he engages with my students and motivates them to participate in his talk. He is clearly a thought leader in project management and empowers his audience with tangible learning points and tools." - MURAT BAYIZ, Professor of Clinical Data Science and Operations Management at USC - Marshall School of Business
"Jason Scott is a provocative and evocative speaker. His highly engaging and irreverent style leaves listeners more than just informed or even enlightened. It leaves them altered. Jason has an ability to cut through normal corporate-speak to the heart of the
matter in a light and fun way, while lacking no clarity about what is at stake. Organizations and individuals who hear his message will be better because of it." - MARK P. MURPHY, CEO of Advisor to CEO's, Inc.
Both photography and videography will likely be taken on site or virtually to document PMICVC events and activities. Photographs and video footage are the sole property of the PMICVC. By registering, you, as the registrant, understand that PMICVC may use your likeness for promotional purposes. If you do not wish to be photographed or recorded using audio or video, please notify a board member on site or do not use your audio or video for this live virtual event.
It is no longer possible to register for this event