<< Back to Calendar
Disciplined Agile Scrum Master (DASM) Certification Course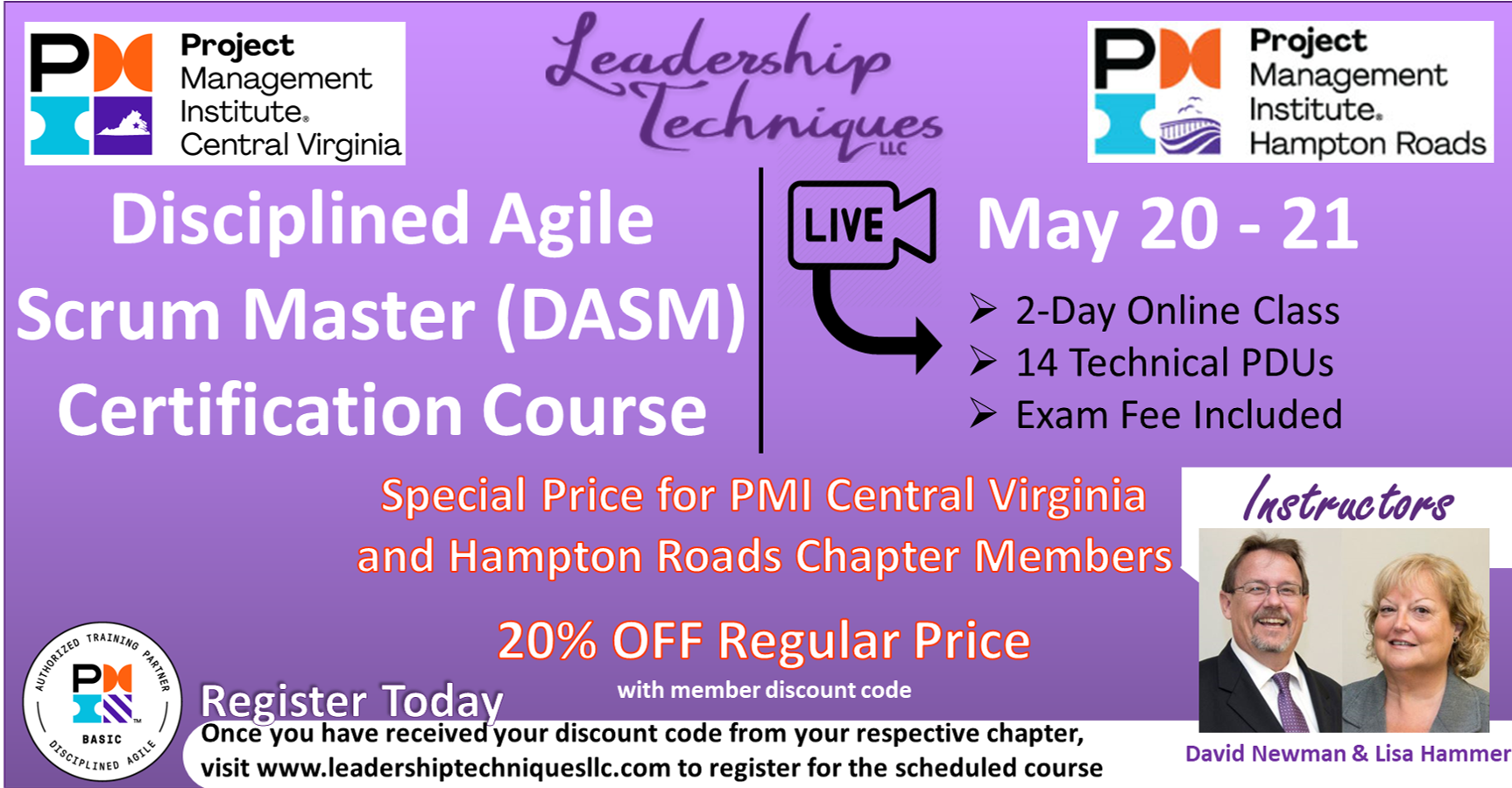 Begin your agile journey learning multiple agile approaches; understand how to use the Disciplined Agile tool kit and find your way of working (WoW). Comprehensive training introduces leading agile and lean approaches like Scrum, Kanban, SAFe® and more that frees you from any single agile framework and opens your options. No agile experience is required!
Schedule: May 20 & 21 from 8:30am – 4:30pm EST each day (14 hours of instruction)
PDUs: 14 Technical
Login: You will receive the Zoom link from Leadership Techniques, LLC one week prior to class.
Materials: You will receive an electronic copy of the training materials within 2 days of registering (not available in paper copy). Your discounted registration fee of $720 includes course content, all fees, including exam fee (valid for 30 days after training). 
Exam: You MUST take the online exam within 30 days of the course. The price of the exam is included in your registration. If you do not pass the exam the first time, you may retake the exam up to 2 additional times for a $150 fee for each retake. 
Note: Course tuition is NON-REFUNDABLE but you may reschedule for a later date.
Disclaimer: This course is licensed by PMI to Leadership Techniques, LLC, and all updates, changes, corrections will be solely owned by PMI. As such, the materials, information, and exam parameters are subject to change at the sole discretion of PMI.
---
IMPORTANT
To qualify for the 20% discount, $720 member price, you MUST first complete the below "May 20-21 DASM Certification Course - Member Discount Code Request" form.
DO NOT REGISTER FOR THE DASM CERTIFICATION COURSE WITHOUT YOUR DISCOUNT CODE! ALL COSTS ARE NON-REFUNDABLE.
Not a member of PMICVC but want to become one and receive your discount code? Select "Other" in question 1 on the above form and you will be asked for additional information so we can best sign you up as a new chapter member and get you your discount code.
Please reach out to support@pmicvc.org with any issues or concerns
Both photography and videography will likely be taken on site or virtually to document PMICVC events and activities. Photographs and video footage are the sole property of the PMICVC. By registering, you, as the registrant, understand that PMICVC may use your likeness for promotional purposes. If you do not wish to be photographed or recorded using audio or video, please notify a board member on site or do not use your audio or video for this live virtual event.
The maximum number of entries has been reached