<< Back to Calendar
Innovative Project Management Group: Overview of PMBoK Guide 7th edition, a new worldview for PM
Details:  Overview of PMBOK 7th edititon
Registration ends Wednesday evening (7PM), December 9, 2020.
Speaker: Bob Treacy, PMP, ASEP
Bio: 
• Project Manager and Systems Engineer, National Radio Astronomy Observatory
• Bob has been with the National Radio Astronomy Observatory (NRAO) since 1988, where he currently works as a Project Manager and Systems Engineer in Charlottesville, VA across a variety of technical and business project initiatives supporting development and construction of instrumentation for radio
• Volunteer work includes serving as the charter board president of a community soup kitchen from 2008-2017, extensive experience in church leadership, and mentoring others toward their certification goals. Bob has an A.S. in Electronic and Computer Technology, an A.S. in Mathematics, and a B.S. in Physics from New Mexico Institute of Mining and Technology. Certifications include the PMP, ASEP, and CID+; also holding a First Class FCC License. He lives in Crozet, VA with his wife Karen and has two adult children living in New Mexico.

Description of Presentation: 
• The Foundation for the PMBoK goes back to 1981, with the project management standard evolving to a release as the PMBoK 1st Edition in 1996, which defined 37 processes.
• Subsequent versions of the PMBoK, through the 6th Edition have primarily addressed changes to the processes, usually resulting in additional processes, to reach 39 in the 6th Edition. The page count has steadily grown with each edition.
• We have approached Project Management, guided by the PMBoK, through the lens of the ten knowledge areas and five process groups; even to the point of memorizing as many of the the Input, Tools, Techniques, and Outputs (the "ITTOs") in order to get through the exam.
• PMBoK 7 is changing this worldview from a process centric approach to a focus on Project Management Principles and Project Performance Domains. A secondary impact is a significant reduction in the page count. However, don't put your PMBoK 6 in the yard sale, for it is not going away.
• Many questions remain unanswered as PMI is rolling out this version. In this session, we will explore what the changes may mean, why PMI is taking this direction, stimulate discussion, and hopefully reduce some anxiety.

Schedule
06:15 pm - 06:20 pm Zoom Meeting Opens
06:20 pm - 06:45 pm Networking 0.5 PDU

06:45 pm - 07:45 pm 
Presentation
 1.0 PDU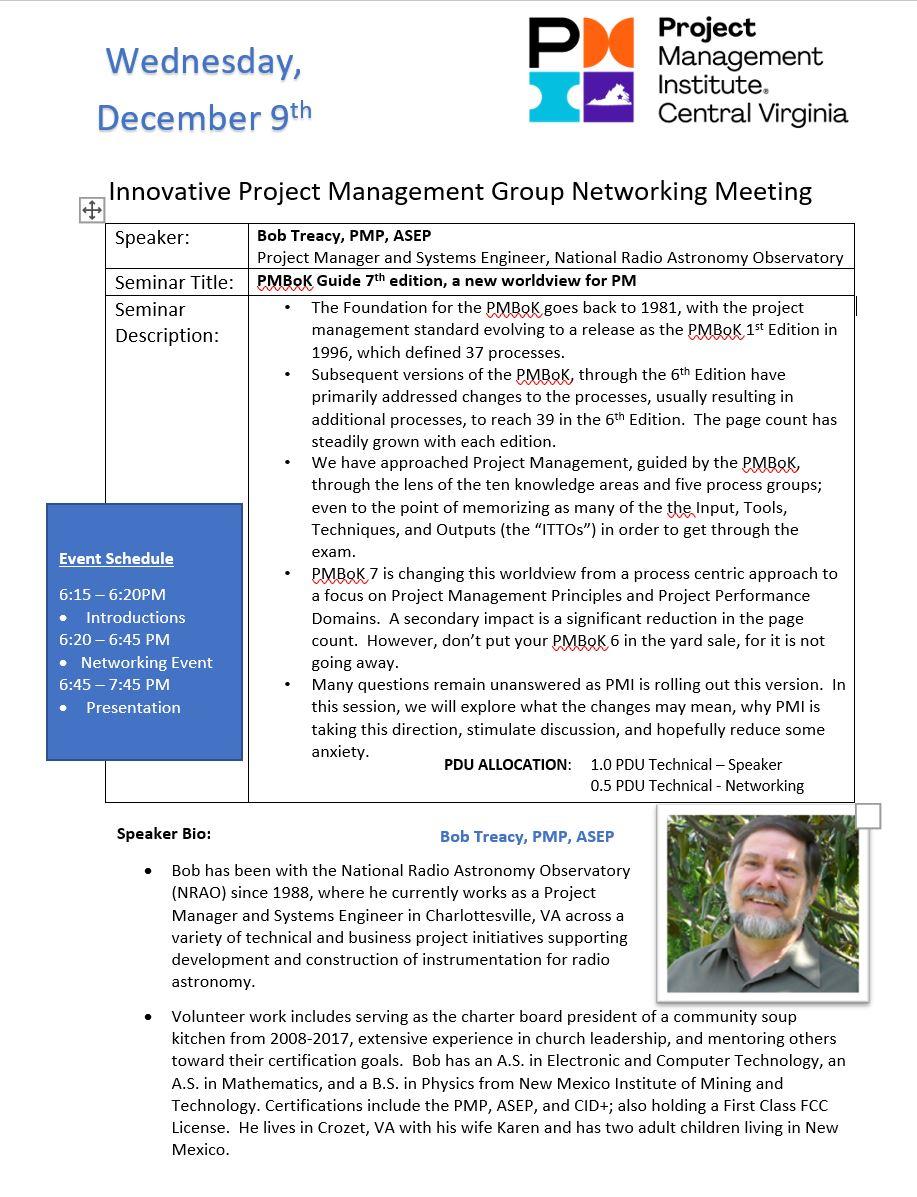 Both photography and videography will likely be taken on site or virtually to document PMICVC events and activities. Photographs and video footage are the sole property of the PMICVC. By registering, you, as the registrant, understand that PMICVC may use your likeness for promotional purposes. If you do not wish to be photographed or recorded using audio or video, please notify a board member on site or do not use your audio or video for this live virtual event.
It is no longer possible to register for this event