<< Back to Calendar
Innovative Project Management Group: The Building Goodness Foundation an international construction company
Details:  Multi-Country construction
Registration ends Thursday evening (6PM), November 12, 2020.
Speaker: Jack Horn, President, Building Goodness Foundation 
Description of Presentation: 
My BGF story part 1- Pearlington, Mississippi
My BGF Story part 2, Haiti Earthquake of 2010
Managing volunteer professionals
Providing for a meaningful volunteer experience
Designing buildings in the developing world
Managing construction in the developing world
The evolution of what BGF does-can it work without us?
In this presentation, I will try to give you some history and insight into BGF. We started out as a small group of builders who took their tools to Haiti a few times a year. We grew into a multi-million-dollar international construction company working in Haiti, Guatemala, Honduras, Nicaragua and Costa Rica. And we do lot of work right here in Charlottesville.
The Building Goodness Foundation:
Mission is to build community and improve lives.
Vision: 
As the construction industry's outreach to the world, we envision a future in which all communities have the buildings they need to thrive.
Schedule
06:15 pm - 06:20 pm Zoom Meeting Opens
06:20 pm - 06:45 pm Networking 0.5 PDU

06:45 pm - 07:45 pm
The Building Goodness Foundation
Speaker Bio: John D. Horn (Jack) is an innovative leader with a thorough knowledge of the construction industry. Since becoming president of Martin Horn in 2001, Jack has invested in new technology and expanded personnel, positioning Martin Horn for continued growth and success. He has personally managed many specialized, high-tech projects such as Haunted Hollow Recording Studio, the renovation of the Jefferson Theater and the Charlottesville Pavilion.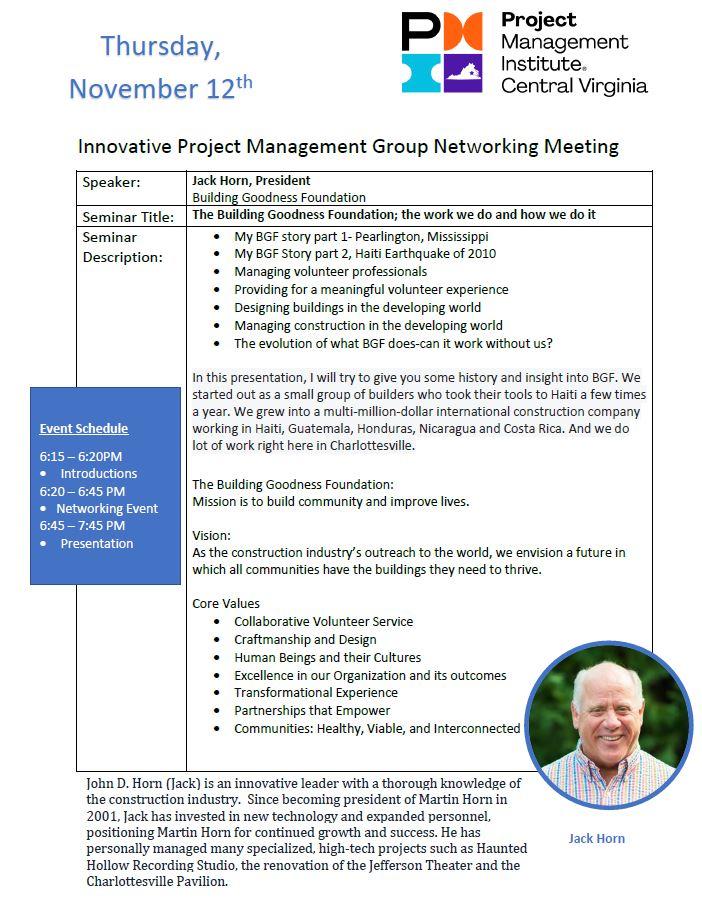 It is no longer possible to register for this event