<< Back to Calendar
Innovative Project Management Group
Details:  COLLABORATION + INNOVATION IN CONSTRUCTION
Registration ends Thursday evening (6PM), October 22, 2020.
Speaker:  Paul Littlefield, DBIA  
                 Jim Miller, CHC, LEED AP
                  Jevon Brookes, LEED AP BO +C
Description of Presentation: 
Traditionally, construction is a fragmented industry. A variety of obstacles
may make it difficult for your team to work cohesively. In this session, the
Barton Malow team will review how the latest tools and technology can
help you overcome those challenges and improve collaboration.
Schedule
06:15 pm - 06:20 pm Zoom Meeting Opens
06:20 pm - 06:45 pm Networking 0.5 PDU

06:45 pm - 07:45 pm Speaker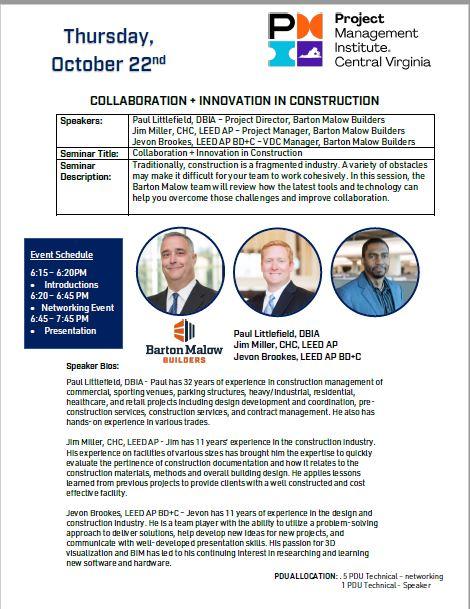 It is no longer possible to register for this event