<< Back to Calendar
PMICVC 11/18/20 - Virtual Chapter Meeting
Registration ends Tuesday evening (8PM), November 17, 2020.
Speaker: Natalie Foster, MHRM, Director of Programs and Partnerships, MENTOR Virginia
Presentation: Mentoring: Expanding Web of Supports and Social Capital for Young People
Description: 
In this presentation, you will learn how mentoring provides a road map of success for young people.  Mentoring provides meaningful connections that impact the people involved and influence their lives at home, at work, and in their communities. 
For the mentors:
build leadership and management skills,
expand a mentor's professional network,
provide an empowering opportunity to give back to the local community. 
For those who are being mentored:
Improved academic, social and economic prospects.
MENTOR Virginia's vision is every young person in Virginia who needs a mentor will have a trained mentor.
Mentoring 
What is your role?
Using the Growth Mindset
How COVID-19 is Shaping Young People's Perceptions of the Future
This educational event qualifies for 1.5 PDU's within the PMI Talent Triangle  
 = Leadership
Date
Wednesday, November 18, 2020  
Schedule
6:00 pm - 6:10 pm  Zoom login/introductions
6:10 pm - 6:45 pm  Networking meeting

6:45 pm - 7:00 pm  Chapter business
7:00 pm - 8:00 pm Presentation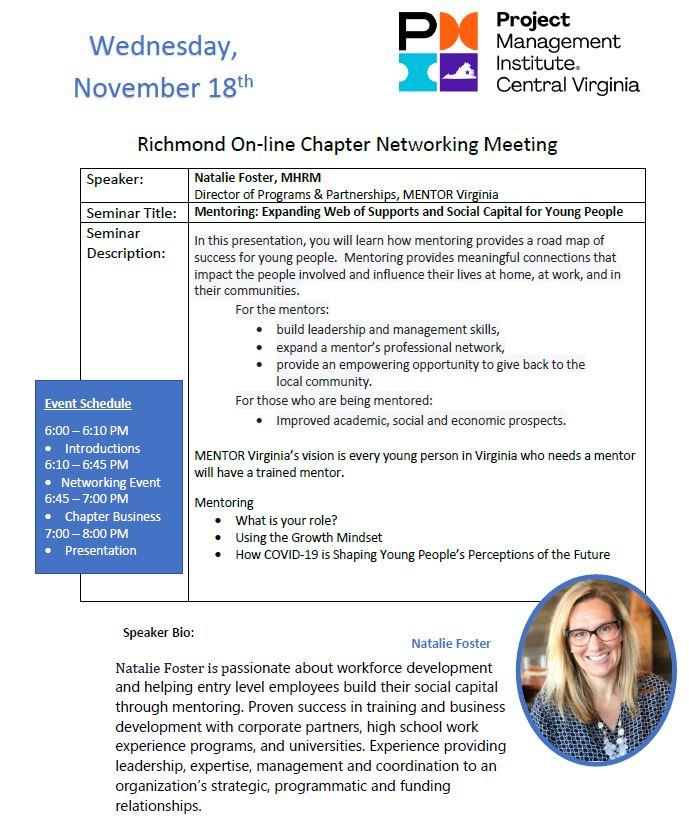 It is no longer possible to register for this event