2020 Volunteer Recognition Networking Speaker
Seminar Title: Maintaining your Health During COVID-19
Risa will share how nutrition and movement affect your body and overall health. She will share some simple strategies to strengthen your immune system, which is the body's first defense against whatever comes our way. Your lifestyle can either support your immune system or suppress it. Let's help our bodies be stronger so we can live our best life!
Risa Lynch
Risa Lynch is a former HS teacher, adjunct professor, and currently a Certified Holistic Health Coach, and Cellular Health Coach.
She is devoted to educating about how to improve your overall health through nutrition, exercise, and mind body spirit practices. A natural coach, she believes making small lifestyle shifts over a short period of time can highly impact your health for a lifetime. Her currently focus is educating people about a new cellular health technology and new field of science which is highly impacting people's health all over the world.
2020 Volunteer Recognition Event Speaker
Seminar Title: Thank You - But What's Next?
Volunteers are the 'life-blood' of our chapters! Without you - we don't exist. In fact, we are all volunteers aren't we? Tonight, we celebrate you and all of us. But what's next? Where do we go from here? How do we leverage what we've learned into something new?
David Barrett
David Barrett is a professional speaker, regular blogger, podcast host, author of 8 books and project management education advisor to numerous universities in Canada.
David's career includes the creation and directing of a project management conference business called ProjectWorld ProjectSummit, a training company, a software development firm, a speaker bureau, a project management portal called ProjectTimes.com and a project management event series called ProjectTalks.
Most recently, David has launched a project management video web site called ProjectBites.com
Most importantly for all of us, he is one of us. He has been a member of the PMI since 1995.
2020 Volunteer of the Year
Congratulations to Danielle Dodge for earning the 2020 Betty Jane Hughes Volunteer of the Year Award
View our Exceptional Volunteers
MBA, PMP
Danielle is a dedicated wife, mother, family member, friend, and veteran who also lends significant support to our chapter. In 2020, she supported the Social Media, Event Operations, and Technology Committees. Danielle worked with our teams to improve membership outreach, sponsorship, data analysis, virtual events, video editing, member support, speaker acquisition, website support, google form creation, event planning, event registration, and training. Danielle brought her strategic thinking, can-do attitude, and willingness to support to each committee. She could be counted on to bring new ideas, actively engage in problem solving, brainstorm to achieve objectives, and share tools and ideas with each member of the team. There was never a task too small for Danielle to complete and quite often she would begin to work on a solution without ever being asked to lend support. The Chapter is fortunate to benefit from Danielle's camaraderie, expertise, and support.
Thank you for your hard work and dedication to PMI Central Virginia Chapter.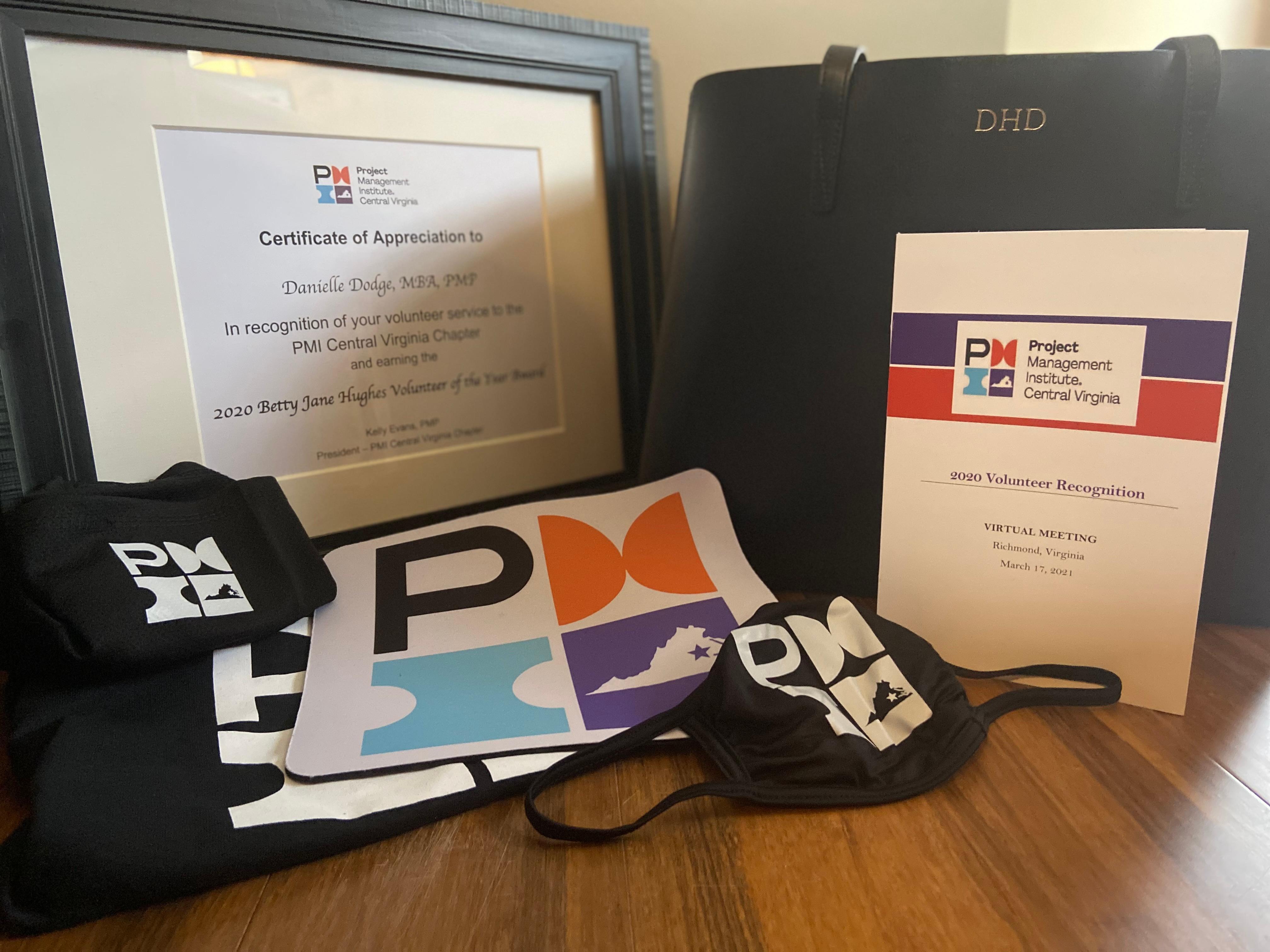 View Our Exceptional Volunteers